This story comes directly from the patient's communication regarding her outcome from adipose derived stem cells with PRP (platelet factors) for her degenerative knee disease. First, a little background: we are talking about a 49 year old mother of child with autism, whose husband is stationed in abroad. For 14 months she has been in moderate to severe pain in her right knee. She had an injury when her autistic child fell on her knee damaging the meniscus and the medial collateral ligament of that joint. Following surgical removal of the damaged portion of the meniscus she had pain so bad she was getting to the point of accepting her orthopedic surgeon's suggestions to do a total knee replacement.
Think about that for a moment: mother of a child with autism having major joint replacement surgery while her husband is in Japan. Rehabilitation from that surgery is painful and protracted.
So, we discussed the option of using her own adipose (fat) derived mesenchymal stem cells, combined with her own platelets in an attempt to prevent serious surgery. She was already familiar with stem cells after using them for her child. But those stem cells were only available in Ukraine and their techniques were not joint specific treatments.
We discussed the options available and she decided self-donated stem cells made the most sense. She required only local anesthesia and drove herself home after the procedure. Immediately prior the procedure we used hyperbaric therapy at 2.2 ATA to increase the stem cell yield (based on previously published literature). Here are excerpts of several emails being posted with permission.
FRIDAY: DAY ONE – A few hours after the procedure.
"Hi Dr. B,
I had bumper-to-bumper traffic nearly the entire return trip home in Friday frightfest rush hour, so I finally got home a bit after 7 PM and received your message.
I had no pain or problems driving with regards to my tummy or knee. Since I've been home, my tummy has been oozing some more liquid but there is no soreness or bruising. I'm still a bit white in the injection area but I have full feeling with no numbness. As for my knee, I don't feel any significant pain; I would describe the pain more as stiffness and minor soreness. You were able to get a good deal of stem cells/PRP into the swollen problem area from my surgery (which we saw at the office) — the area still has fullness there. (She went into the lab with me as we isolated the cells so she could see the yield from the small amount of fat we removed.)
So, I'm doing great with the worst part of the procedure being the drive home! THANKS SO MUCH for doing the procedure for me. Let's hope for the best — I want to avert a knee replacement for as long as I possibly can!"
SATURDAY: Day 2.
"Hi Dr. B,
I'm still doing good with the only pain (minor) that I have is the incision above my belly button where you inserted the cannula. The "poke" marks around that area are now visible (pink/mildly red) but don't hurt. I'm still a bit stiff but not sore around my knee so all is well! I'll keep you posted and we'll see you in a couple of weeks!" The poke marks are where I inserted a combination of dilute salt water with anesthetic.
MONDAY: Day 4.
"Hi Dr B,
You've given me a great birthday present today — to be nearly pain-free in my knee for the 1st time in 14 months since I tore my meniscus and had subsequent surgery. I had recently scheduled an in-office appointment with you on Monday the 17th for my son in case he neededit, but he's doing great, so we'll only need to discuss the next steps for my knee.
I still have the instability issue that we discussed and limp due to the tightness that developed following surgery last December. But, I'm not sure whether I limp because I've been doing it for so long that I need to re-train myself to walk correctly. I'll be setting up one of my husband's indoor bike trainers to begin exercising my legs regularly to help address the tightness issues and strengthen my leg which I'm sure will help.
In regards to my tummy, the soreness is now virtually gone except for some tenderness at the incision point, which has sealed nicely. I think the most "painful" (which was only a mild soreness) part of the procedure was the liposuction. The injection into my knee area was only momentarily painful a couple of times, but otherwise, the injection and afterwards was not painful or sore for me. Prior to the procedure, my knee pain had become so bad that I was on the verge of acquiescing to my ortho's strong push for replacement — glad I didn't do it!
FYI – Should you be interested, the GA Aquarium gives residents free admission on their birthdays, so I'm treating myself to a day there. So, we're off !"
TUESDAY: Day 5.
We talked on the phone so I don't have an email to insert, but the conversation went like this. Despite spending the day walking at the Georgia Aquarium she had minimal discomfort. Prior to the stem cells she admitted she would have been miserable. The minor outpatient procedure took about 4 hours total and was obviously easy.
No one can predict how long this procedure will help her, but for know at least she is happy to not have had major surgery and to be able to easily care for her child's special needs.
This is what she has at least for now avoided. Knee replacement surgery is a major procedure.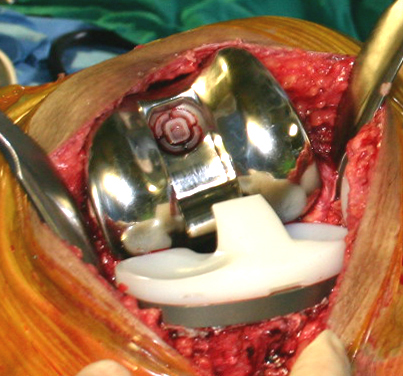 The next step for her will be to use a simple process to improve stability in the medical ligament complex. Eventually, we may use some additional self-donated stem cells to enhance that recovery process as well.